The Poucet™ mini GPS tracker is the miniaturized version of the NashTag™.
Compact and discreet, its small size makes it easy to hide it in your boxes or in the middle of your pallets, during the transport of your valuables.
The specific configuration of the Poucet™ mini GPS tracker means you won't miss any stops. ven if they are very short, you will be able to locate the different places where they occured from your phone, tablet or computer.
With less battery life than the NashTag™ tracker; Le Poucet™, however, ensures constant communication for trips without interruption for 2 weeks.
The Poucet™ mini GPS tracker is simply recharged via its mini-USB socket.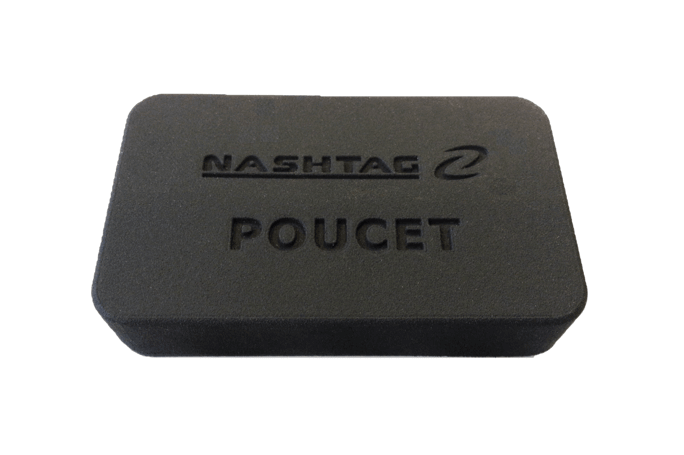 Easy to install
A few minutes are enough, no connection to make.
Discreet and robust
Compact and discreet tracer. Can be hidden easily
Reliability
Ultra-precise satellite location. International high frequency network
Great autonomy
Up to 2 years of autonomy (depending on frequency)
Immune to jamming
Strong battery life: its level can be checked via your account on the NashConnect application
Precise tracking: its GNSS antenna and specific algorithms will return very precise positions
Ready to use: the mini GPS tracker is delivered ready to use without any additional settings
Available functions
Ultra-precise localization
for its geolocation, our tracker automatically searches for the constellation of satellites that will give the best results when positioning it. Namely: GPS (American), GLONASS (Russian) and GALILEO (European). This last constellation being the most precise because it is equipped with the latest technologies in terms of atomic clocks.
Insensitive to signal jamming: intrusion resistance of the tracer
Internal battery charge status
Use cases
Protection of packages and valuables during transport
Two-wheeled equipment or any other property requiring GPS tracking
Technical specifications
Autonomy: up to 2 years, depends on the frequency of location information needed. Enhanced real-time tracking: 2 weeks
Power supply: Charge par mini USB
Dimensions: 90 x 52 x 19mm
Weight: 90 grams
Material: ABS
Certifications: ISO 9001 and 14001 – Sigfox
Technology: UNB Sigfox (without SIM card)
International network coverage: https://www.sigfox.com/en/coverage
Frequency band: 868.13 Mhz
Operating temperatures: -40 °C à +85°C
French made